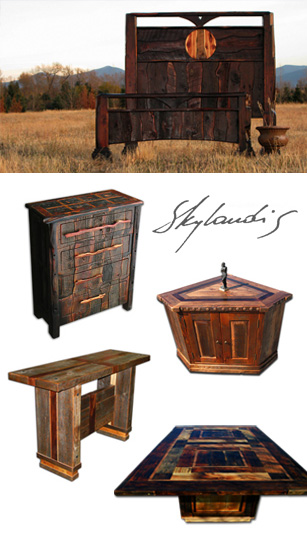 Skylandis Furniture
Skylandis Furniture was established in 2006 in Bozeman, Montana.
I have had a passion for making furniture for many years. In the years of perfecting my skill and artisanship I came to develop my own style, combining a sculptural approach to furniture with a respect for the history and quality of the materials. Design lines and materials can be duplicated but not the honesty and thankfulness that I bring to my work everyday.
Most of the materials I use come from old barns in Montana and South Dakota. Every imperfection and crease has a story. In my work, I try to capture wind, the motion of rivers and the color of the sunrise. I may never succeed, but I will keep trying and will continue producing unique and beautiful custom furniture.
Skylandis Furniture is dedicated to providing service with responsibility, sensitivity and dignity. Understanding the challenges facing our planet, we are commited to using recycled materials and eco-friendly finishes, and rely as much as possible on hand tools, in order to preserve our Earth for future generations.
Sincerely,

Rytis Rackauskas